https://docs.google.com/document/d/1PkIcsYz-AddeYsDLzgxo748qc7Lk8LO5c6ks3M_mQKE/pub <--here is a link to instructions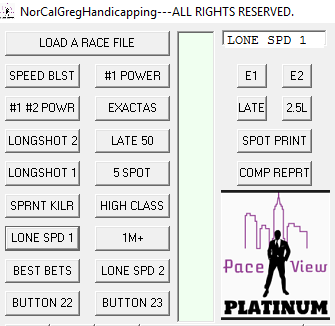 **LOAD A RACE FILE
Click this and it should give you a view of your Bris Data files--you simply double click on the file--it's loaded up. If you don't see any files--that means your PLATINUM is not in the same folder as your Bris Files. It can only "see" the files that are in the folder with it.
**SPEED BLAST
Since a few of these spot-plays are of a proprietary nature--I can't tell you exactly how they were made--but what the purpose is. Speed Blast is just what it sounds like - a spot play to point out which horses may have a speed advantage. Good for speed-tracks such as Emerald, Turf Paradise, Belterra, etc. BTW--this is valid on any surface--at 5 to 6.5F races.
**EXACTAS
I can tell you exactly what this button does--it "looks" for any TOP-2 POWER horses, that have a 15 point gap to the 3rd highest Power horse. Fun to play, hits a lot of smaller exactas....once in a while it will even nail a good one. I haven't done any real testing, but in my experience--the top rated horses win more than their fair share. Many times you'll nail the top horse--but the #2 will run 3rd or worse. This is because of the "GAP"....you have two top power horses..with a POINTS GAP to the rest of the field. So in a sense--you've reduced the race to TWO CONTENDERS...and since one of the two is top power--that is the "best" of the two. If this doesn't make sense right now--it will after you use the program.
Play around with this--you'll have fun.
** #1 POWER
Lists all the TOP POWER horses for each race. The only time you won't see a race listed--is when there are over 30% First Time Starters. They are still rated when you open the individual race--just not listed here as a TOP POWER.
**#1 #2 POWER
Same as above except this lists BOTH TOP POWER horses.
I specifically put this in for exotic betting--you can print this out (be sure and get any scratches out) and take it to the track. I print this out and have it on my desk--I like to play early and late doubles with both horses in each race criss-crossed. Look for some decent odds--no fun to bet $8 on the double--win it--and have the payoff $9.20 because two big favorites won both ends. I've hit plenty of PICK-3's
with this 2x2x2 method.
**LONGSHOT 1
This is my own longshot method--I hit a $73 horse the first few days I tested. Check this for yourself--keep a meticulous record, and you'll find some big hits in there. One of my crew has been using it for a show method, and last word I got--he was "showing" a nice profit. Keep a record of this one--see how it does.
**LONGSHOT 2
This button came about because I used to hunt around for TOP POWER horses 10-1 or greater odds. I call them "DUCKS" ...well you don't have to search for your ducks--click this button and any top power horses 10-1 or more will show up. Good for simulcast play.
**LATE 50
This one's easy---TOP LATE POWER + 50% Earnings Per Start. Will nail a nice longshot or two--for Routes--especially Turf. Use in exotics, mainly.
**5 SPOT
Most spot-plays have been handed down, passed around for decades--this is no different. Well the big difference is, this one is pretty good! I would have tossed it--or any other play/method from the program if it was a dog. In case someone says "Hey-that spot play is mine!" I don't like to reveal everything--even though this doesn't "belong" to anyone--I don't need the grief. Longshot PLAY.
**LONE SPEED 1 AND LONE SPEED 2
Two different buttons--two slightly different methods.
LS #1 has more plays--and has no minimum odds. As a win bet--I like to see maybe 5-1 min--but find out how it works at your track. Not really good for exotics--the horse will either win or die out in the stretch and finish last.
LS #2 is a little more discriminating--has an odds min 5-1 built in. Both these methods bear watching and keeping a record of how they do for you.
**SPRINT KILR
Obviously a sprint play--I used to call it the "DIRT SPRINT KILLER" It's for dirt sprints only--pure speed play. You don't see a lot..so take note when one appears.
**HIGH CLASS
One of my favorites--I'll bet it will be one of yours as well.
One of my crew--gent named Gene came up with this. It's so simple, it's sick.. but it wins. Mostly lower odds horses--so when you see ANY PLAY 5-1 and up, take a good long look. This is the play: TOP POWER/TOP PRIME POWER/TOP TJ%. You may think--no way is this ever gonna produce anything but a well bet favorite. Think again--I personally caught a $14 horse @ CBY, and an $11 horse @ Delaware the next day. How can these horses go off at such high payoffs for a method like this? Dunno, but keep your eye on it. Also a MUST USE for exotics.
**1M +
This is my own play...as the name implies it's for routes 1mile and up. I don't know how I come up with these...it's a gift I tell ya. Gets good prices.
**BEST BETS
This and LONE SPEED 1 are from PACE VIEW PRO--this is probably everyone's fav button. I noticed when we were putting the original program together--a lot of horses that were Top Power--AND had the highest Bris speed, won a lot.
So decided to make that a play--Best Bets. The highest payoff I ever saw a BB pay was $33 once. Amazing but true. Most are very low odds, so don't get your hopes up waiting for another $33 payoff! One of my crew from LA tested BB's at LAD and showed a flat bet profit for 100 races. Test this for yourself--it's not supposed to be flat-bet profitable--see how your track does. Woodbine, Indy, some other tracks--NOTHING seems to work there, not even BB's.
**SPEED COMBO
I noticed the combination of SPEED BLAST and SPRINT KILR-when a horse showed up on both (yes, on the same day) ...they win a lot. Just to make it noticeable, because it doesn't happen often -I made a button just for that, so you won't miss this potentially deadly combo. Get in the habit of clicking on this and checking.
**ABILITY POWER
As I type this--and you can see in the pic above--these last two haven't been labeled yet--just button 22-23. ABILITY is something else I came up with--independent of the POWER NUMBER...it is for higher class horses. Stakes Races, Handicaps, your big money races @ whatever track you play.
What I did was make this button for horses that are TOP POWER & TOP ABILITY in the race. Do Not disregard any lower claimers that show up here at a price, at least until you've had a chance to test for your own track...they could be "live" as well.
--ABOUT THESE SPOT PLAY BUTTONS:
The printing is pretty self-explanatory. You can print a list of the Top Power--Top 2--Exactas, or a comprehensive list of all the "angles" your horses have, on the card. The more angles--the better. I've found 5 or more is very good.
If you want to print races, you'll have to get the Bris PP generator, found on the BRISNET site. We don't have anything to do with that--sorry. I don't have permission to include something like that.
Back to the buttons--take notice of combinations that win a lot. And especially..if you have a LONE SPEED play, etc..and he's also listed on HIGH CLASS--you've got yourself a good looking shot. You would think what works at one track will work at another--not necessarily so.
*E-1 - BUTTON--SHOWS EVERY TOP LAST RACE PACE FIGURE FOR 1ST CALL OR E-1 -----ONE PER RACE UNLESS TIES
*E-2 ---- SAME AS ABOVE EXCEPT SHOWS ALL E-2 2ND CALL PACE LEADERS--LAST RACE.
*LATE - SHOWS ALL THE TOP HORSES WITH THE HIGHEST LATE PACE FIGURE--LAST RACE.
HERE'S A QUICK SPOT PLAY: click on E-1...then look to see if there among that group is a horse with an unusually high LATE PACE FIG...or had the lead 1st call. That is normally the domain of your even-money favorites--once in a while you'll see 10-1 shot or better in that group.
The reverse play is to click on LATE--and look for a longshot that led 1st call--or has a high EARLY FIG. I found a horse named METAURUS @ Belmont that was 20-1 that showed this "aberration"..he paid $80 to win. It was in March of 2016--if you have old Bris files look him up. This works particularly well @ Turf Paradise and Belmont.
*2.5L Get familiar with this button--it shows all the horses on the card that were within range of the lead at 1st call--one of their last two races. Speed is absolutely vital in horse racing..if a horse hasn't shown an ability to be anywhere up close early--he is no use to us
Also you'll notice a lot of longshot winners are in this group. I use these horses as my "contender group". You can then sort them for TURF BLAST, ABILITY, POWER, EPS%, SPEED BLAST (I'll explain those terms and columns coming up).
This is what makes this program so much fun--you can do whatever you want--NO ONE ELSE has the way to sort these all which-ways. Make your own spot plays..just play with the program and see what comes up. Or take a look at yesterday's results..and see where those winners ranked, and what way could you have found some of them.
One other thing--I include Bris' PRIME POWER in a column--just because I could. Just something to compare with--but as a stand-alone rating, I'm afraid it's so overbet because EVERYONE has it. They don't all have PACE VIEW--so trust your program and Power Numbers--if Prime Power doesn't rank the horse highly, you may get a much better price.
BTW...THIS IS NOT A GAMBLING SITE--I'M NOT HERE TO INDUCE ANYONE TO GAMBLE, THAT IS NOT MY INTENTION. IF YOU POSSIBLY HAVE A PROBLEM--THERE IS HELP AVAILABLE
http://www.gamblersanonymous.org
--NCG
Have had some questions about BL-1 and BL-2
This should clear up any confusion
As always--e-mail with any questions
and one other note:
The ">" mean the horse was on the lead at the first call in the last race, is back in 16 days or less and did not win the last race.

The '*" indicates there is at least a 10 point gap between the best and second best SPEED BLAST numbers.

This was to be the original SPEED BLAST, or something similar. When you see the arrow and the asterisk TOGETHER --well..use your judgement.

That horse that shows the >arrow AND asterisk* together--- led 1st call last race--didn't win--is back in 16 days or less--and his a large SPEED GAP to the #2 horse.

That was supposed to be a spot play but there was a miscommunication between myself and Steve-the-programmer.

Since he was charging by the spot play I just left it there
since it wasn't an official spot play.
http://www.pace-view.com/terms <<----see our terms here