(originally posted on PaceAdvantage.com) I was responding to the kudos upon hitting $48.00 winner CINDERELA EL CROME @ Aqueduct
"Thank you boys......I've been a winner......and a loser
IT'S MORE FUN BEING A WINNER!!!!!"
Now....right away I got the inevitable question:
"Why don't I see that play on my Platinum Picks"?
Well sir---you do. This is one of the first successful plays I posted here and on my website with Platinum.
See if this will jog your memory:
I've only used this @ Belmont/Aqueduct. It just works--don't know how it does elsewhere. I'm sure some tracks it's killer--other's probably doesn't work worth a damn. I did my homework to find this one...and then told everyone about it--- I'll show it again.
You don't HAVE to have Platinum for this---you can use PRO--it's just easier on Platinum because you can sort everything instantly.
1-Load up your file...today's AQ
2-Click on 2.5
3-Then go to the E-1 COLUMN and sort it to get the top two. NOT the E-1 BOX on the interface---the actual sortable column on the screen.
The TOP-2 are the selections. (if from the same race...bet them both if odds are high enough...select the highest power number...or pass the race)
Today both top 2 won--I didn't like the odds on the 2nd horse and since I'm a great handicapper--passed the race
*MORE INFO HERE http://www.pace-view.com/what-s-winning-today
Here it is explained in detail: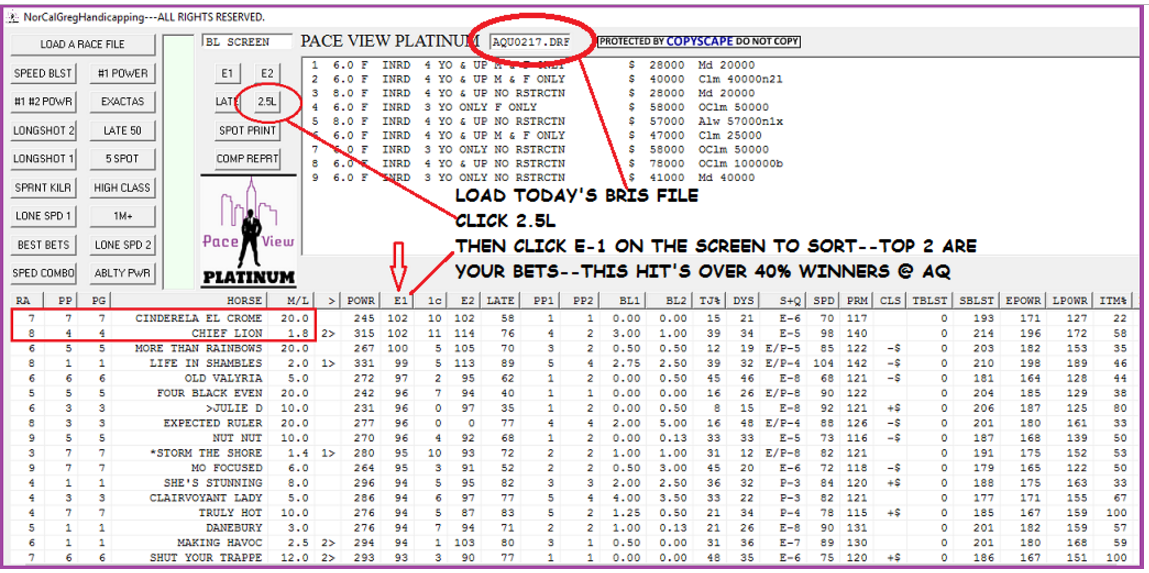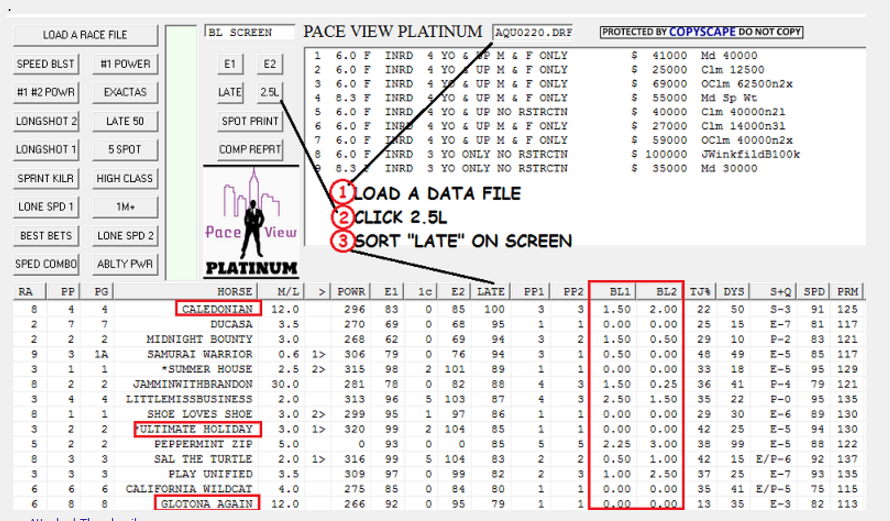 AND THIS OF COURSE--IS THE LATE METHOD...EXACTLY THE SAME--EXCEPT INSTEAD OF SORTING E-1...SORT BY LATE. TRY THESE METHODS AT DIFFERENT TRACKS--SEE HOW THEY DO. THIS IS HOW I FIND ALL MY METHODS---THROUGH RESEARCH AND TRIAL AND ERROR