*FOR MORE GENERAL INSTRUCTIONS INCLUDING EXOTIC BETS! -CLICK HERE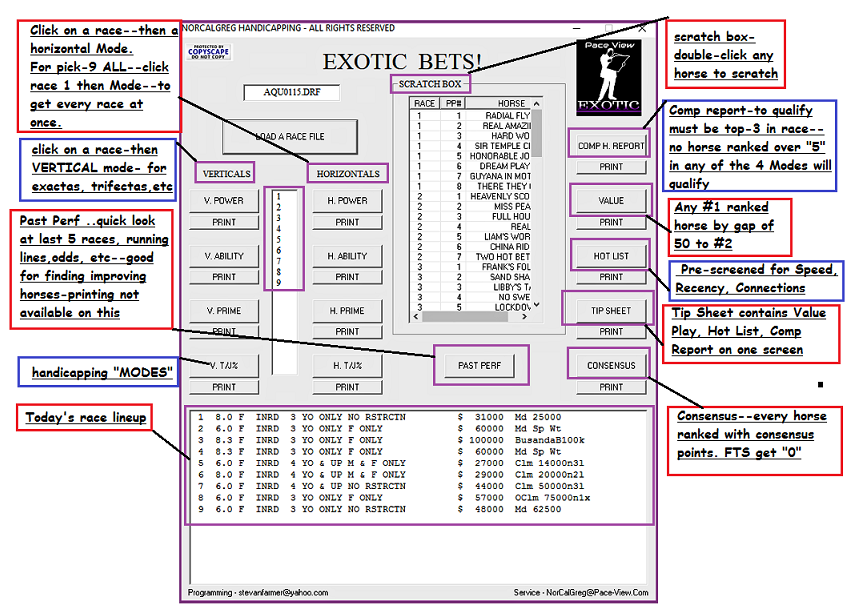 🌟EXOTIC BETS is an easy to learn, effective, fun program. It was designed to not only help pick winners ..but as a great contender list, top 3 in each race--for doubles, pick-3's, pick 4's...to the pick-6. Click on race 1-- then a horizontal mode to get All Nine Races.
🔹The Tip Sheet is a handy guide for betting--print it out, make notes, circle selections, etc.
🔹The Scratch Box has been improved to make this task even easier.
Everything will print except the Quick Past Perfs. Be aware the CONSENSUS PRINT BUTTON will print the entire consensus on several pages, probably.
🔹Play around with it--click the buttons--see what they do--easy to figure out.
🔹Remember to download your Bris single data files ($1) into the same folder Exotic Bets is in. If you don't see your files when clicking "LOAD FILES" --that means your files are NOT in the same folder as the program. This is the only reason you would not see your Bris files right away.
🔹Any other questions, issues...please let me know--and Thank You for purchasing this program-and supporting affordable common-sense racing software.
-NCG